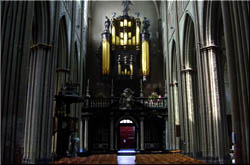 Organist at Bruges Cathedral: Ignace Michiels


Pilar Cabrera has offered a magnificent concert at Bruges Cathedral
in the celebration 50 Years Bruges Cathedral Concerts.
Theme of the year: "Four Centuries West European Organ Music".

Pilar Cabrera opened her recital with Jubiläum by the British
contemporary composer Ronald Watson, in the presence of the
composer. The programme included works by N. Bruhns,
F. Correa de Arauxo, J.S. Bach and the Spanish contemporary
composer Jesús Legido. The closing work was the great
Sonata Eroïca by the Belgian composer Joseph Jongen,
in the commemoration of 50 years of his death.